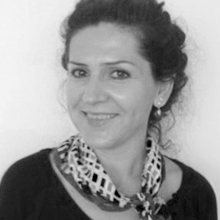 Mirela Bregu
Email: mirejusm@gmail.com
Modality: Group Analysis
Foreign Languages: English, Italian, Spanish
Ms. Mirela Bregu has over 21 years' experience in financial services industry, among which 16 years' experience in managing and coaching teams and several years' direct experience in education attached to the Faculty of Business and Economy, University of Tirana and FASTIP, Aleksander Moisiu University.
She holds a bachelor degree in Finance & Accounting, from the Tirana University and a Master's degree in Business Administration from the University of Nebraska program.
Her forte stands definitely in establishing and managing teams in challenging and multi-cultural environments. Besides her home-country, Ms. Bregu has been involved in several missions and projects in different countries like: Bolivia, Bosnia, Ukraine, Italy, South Pacific Islands, China and Uganda, etc.
Her interests in organizational development with a particular focus on group dynamics aspired Ms. Bregu to pursue a 5-year qualification program in Group Analysis school, taught by the London' Institute of Group Analyses. http://www.groupanalysis.org/Home.aspx .
She is among the founding members of Albanian Association of Group Analyses in 2016 and currently acting as Treasurer of this association from 2018.